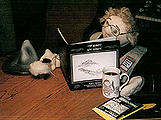 ---
September 2017 News, then and now-COAST LINES, AFR

Thanks to The Carers Group,PZ.a group in COVERACK and THE OVER 50's FORUM. for recommending me...They heard about The JUBILEE POOL and my lovely LAND ARMY GIRLS. 'CoastLines' art and poetry in hand made books, with writer STEPH HAXTON and Artist SUE LEWINGTON. 12 writers and artists for 12 coastal months. An exhibition in Morrab at the beginning of next year..Over half way through and even more excited about the results than we were at the beginning. Coastline creativity at its best! THE LAND GIRL'S STORY went back to school with AWEN and NEWLYN SCHOOL too. The ST ENDELLION BOOK FESTIVAL was SUCH a success working with historian STEPH HAXTON. Please support the African charity C.B.S.M-kimilili.org which has the first MERRYN Home sponsored by Sara Kane, also we support C.H.E.C.K. in the same township, in Merryn's Memory. Thanks FI READ, her Women's Aid event at The Acorn, donated £200 to THE MERRYN HOME. The Sandy Gusset Project - Linking listed Lidos across Britain- knitters support Lidos around Britain ...particularly the 1935 Jubilee Pool in Penzance. THE LIDO CONFERENCE in PORTISHEAD was awesome. The Cornishman Awards ceremony..wonderful winners! Thanks for voting, I'm honoured! Be a Write Pirate Competition.. great event! Sponsored flags for daughter MERRYN on Penzance prom, one year... BODELVA. performed at THE EDEN PROJECT by THE BOURNMOUTH SYMPHONY ORCHESTRA 21 schools, 600 children playing and Angie, the narrator.. BODELVA also featured at The Five Islands school on the Scillies and BOSVIGO in Truro. PENRYN COLLEGE at TREBAH GARDENS hearing about TREBAH the giant. LUDGVAN School raised £1500 at their Sports Relief event and Heamoor School £400 for the Jubilee Pool. their reward ...a chat from Prince Charles! epic! Stories by Sarah Chapman and Lisa Jones of 'Storyworks'. LIZZIE BLACK and Angie made an ANIMATION film about the pool with ALVERTON gifted pupils. Lizzie's paintings are wowing everyone. View the MOSAICS in the NEW Lido cafe, CELIA GREGORY and MOUNT'S BAY, NEWLYN and ST.MARY'S C.of E schools. Who will be the new cafe owner??? Hayle Heritage History Project : The story of KING TEUDAR, the lost king of Riviere. Welcome back King Teudar!!
---
2017 PIRATES Challenge! LAND GIRLS! POETRY SPACE !

The ART CARD PACK for all age writing workshops.. 28 cards for £8.95 inc p&p from angie@westcountrygiants.co.uk and see www.lapidus.org.uk See it on www.POETRYSPACE.co.uk In 2011 We took the Guinness record for PIRATES from Hastings, 8734 pirates raised £7583.96 for 3 charities. In 2014, 77 short of the 1400 plus pirates needed. And no we didn't make the record this August ....but who needs records ?? The weeknd was epic and everyone had a great time. The Newlyn Fish Fest was the best ever and locals and visitors all had a ball. DIGGING FOR MEMORIES The LAND GIRLS of Cornwall, on its 3nd. imprint, Cheques for £15.00 inc p+p. to A. Butler, 5 Regent Terrace, Penzance, Cnwll, TR18 4DW ring 01736 365513. WW2 weekend at Godolphin....tick! National Trust at Trengainton. tick! Newlyn School and Madron visits ..WONDERFUL! Pat Peter's ''Land Girls Gang Up' will be a lasting memory of Pat, from Old Pond or Angie for £8.95.including p+p. Angie's winning poems-www.poetryspace.co.uk
---
JUBILEE POOL: Scary Little Girls

The Jubilee Pool Cafe..in all the mags... fantastic Flo. and Ooghna www.jubileepool.co.uk ..disabled, dog and pushchair friendly. Check out our amazing pool and new ramp, with a walk along the top terrace. We are so proud ...we want volunteers for many aspects of our new 'ownership'. We'd love you to be part of our success...email Angie now and/or become a Friend, check out www.jubileepool.co.uk to join. BRILLIANT! See you for coffee very, very soon.....! Acclaimed film maker, MARTHA DIXON, followed Bournmouth Sym Orchestra and Bodelva's every move at THE EDEN PROJECT...£6.50 for a copy. Scary Little Girls fabulous to see them in Penlee Park. Penzance. Angie LOVED working with them in Mousehole....dressed as a robin!
---
-Discovery map- POP UP PENZANCE -Colouring books

POP UP PENZANCE ...Rachel and Maria, help improve our lovely town..! And Jess Golding..top girl! Thanks for The Man Engine Visit, Will Coleman, a great success! Scillonian 40years, celebrations in the Pop up shop-total hit! The Discovery Map of Penzance! ... Pick one up from The Jubilee Pool or The Welcome Centre..say hi to Nick!!... A schools' pack conceived by Angie and written by Janet Gallie takes you on a guided tour around Penzance. Or go with Anna..www.tourguidepenzance. she knows everything there is to know .... French and English 'Giant' books for school Exchange projects, The perfect present.........and colouring in-we KNOW it's great. Angie was ahead of her time when she wrote them 20 years ago. ...and sudden interest in the Russian version...well I never !
---
Sculpture:Tremeneer Sculpture Gardens. Kenyan orp

Ben Barrell's pebble sculptures in Newlyn Art Gallery garden in Merryn's Memory. Arts Council recognition was nice..! And now see them in Tremeneer Gardens and walk through the valley. Cornish art and planting at its very best. Lands End WW2 - many Land Girl memories. The 'FIRST' Eatsome Project went to EDEN! St. HILARY C.P. and St. MARY'S Penzance, Angie made 2 books about eating, growing and being healthy. Illustrator ALEX HIGLETT from Pirrip Press. MERRYN'S MEMORY supports local projects in memory of Pete and Angie's daughter... get in touch. We supported the Pirate Challenge this year..did you? Angie worked at Humphry Davy with pupils from all feeder schools, to produce AMAZING Poetry bookmarks. Phone to get one 01736 365513 or text 07748963085. The Kenyan orphange is called THE MERRYN HOME, and work is underway to build the 2nd MERRYN HOME in Penzance, on the Prom, it will be free and available for all Merryn's friends and other people needing a break.