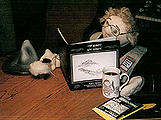 ---
SEPTEMBER 2019 FULL ON SUMMER FUN TURNS.....
January teaching poetry in Kimilili, N. W. Kenya.....! Amazing experience thanks to C.H.E.C.K. and Geraint Jenkins. Fabulous to welcome Anthea from CHECK for her Cornish break in The Merryn Home, and a generous donation towards the African bunk beds. Griffin,making his way in the world, started in the Merryn Home. Now at 19 a place in the University of Nairobi in August. Congratulations. We welcomed Bridget Holding to stay for 2 nights for The Lit Fest.. I missed her workshop sadly as I was spouting poetry with Diana Dixon and friends in the Coach house in Penlee Park. Poetry Space has published the important collection A SCREAM OF MANY COLOURS...with a hopeful poem of Angie's near the back ..get in touch for a copy. Two of Angie's poems in the top 4 winners of Exmoor's Dark Skies poetry Competition. See them on The National Park website and in three National Park Centres. CONGRATULATIONS!!! Into our second year on Penzance Promenade. It's AMAZING!!!! And The Merryn Home here, not QUITE as good as the one in Kenya, A ROTARY TALK planned about our Memories project for THE JUBILEE POOL. Cafe and pool open now. FABULOUS... call me..07748963085 ..or email better..and I'll come for a swim with you....please! THE JUBILEE POOL, Then, Now, To Come.... A whole range of pool lovers, historians and interested people meeting once a month to find out more..such a great project. All due to Barbara Santi and her team at Awen and Jane Bailey and Lou Brett. Looking back ...The 'In the Swim' poetry entries were on display in St. Mary's Church. Thank you to all at the church for such great support. Thanks to The Carers Group,PZ.a group in COVERACK and THE OVER 50's FORUM. for recommending me...They heard about The JUBILEE POOL and my lovely LAND ARMY GIRLS. 'CoastLines' art and poetry in hand made books, with writer STEPH HAXTON and Artist SUE LEWINGTON. 12 writers and artists for 12 coastal months. An exhibition in Morrab Library...The 'book' project now in its THIRD year with another set of amazing artists and writers. THE LAND GIRL'S STORY went back to school with AWEN and NEWLYN SCHOOL too. Please support the African charity School4Life.org C.B.S.M-kimilili which has the first MERRYN Home sponsored by Sara Kane, also we support C.H.E.C.K. in the same township, in Merryn's Memory ! Find out more or support, mail angie@westcountrygiants.co.uk Thanks FI READ, her Women's Aid event at The Acorn, last year donated £200 to THE MERRYN HOME. well done Fi and team. The Sandy Gusset Project - Linking listed Lidos across Britain- knitters support Lidos around Britain ...particularly the 1935 Jubilee Pool in Penzance. THE LIDO CONFERENCE this year in Cheltenham on Septmber 21st The Cornishman Awards ceremony..wonderful winners! Thanks for voting, I'm honoured! 'Be a Write Pirate'..and 'Poetry for the Pool' both brought worthy winners. Thanks to judges Tanya Gold and Gray Lightfoot. Sponsored flags for daughter MERRYN on Penzance prom, one year... BODELVA. performed at THE EDEN PROJECT by THE BOURNMOUTH SYMPHONY ORCHESTRA 21 schools, 600 children playing and Angie, the narrator.. BODELVA also featured at The Five Islands school on the Scillies and BOSVIGO in Truro. PENRYN COLLEGE at TREBAH GARDENS hearing about TREBAH the giant. LUDGVAN School raised £1500 at their Sports Relief event and Heamoor School £400 for the Jubilee Pool. their reward ...a chat from Prince Charles! epic! Stories by Sarah Chapman and Lisa Jones of 'Storyworks'. LIZZIE BLACK and Angie made an ANIMATION film about the pool with ALVERTON gifted pupils. Lizzie's cards are wowing everyone. Hayle Heritage History Project : The story of KING TEUDAR, the lost king of Riviere. Welcome back King Teudar!!
---
POETRY SPACE and The Tangerine Cafe ..
The Tangerine Cafe in Beaminster near Bridport, Dorset, is a winner. Susan Sims, founder of Poetry Space is behind this supportive cafe. call in and see for your selves. Hopefully selling The ART CARD PACK for all age writing workshops.. 28 cards for £8.95 inc p&p from angie@westcountrygiants.co.uk and see www.lapidus.org.uk See it on www.POETRYSPACE.co.uk as well. In 2011 We took the Guinness record for PIRATES from Hastings, 8734 pirates raised £7583.96 for 3 charities. In 2014, 77 short of the 1400 plus pirates needed. And no, we didn't make the record this August ....but who needs records ?? The weekend was epic and everyone had a great time. The Newlyn Fish Fest was the best ever and locals and visitors all had a ball. DIGGING FOR MEMORIES The LAND GIRLS of Cornwall, on its 3nd. imprint, Cheques for £15.00 inc p+p. to A. Butler,9 Marine Terrace, Penzance, Cnwll, TR18 4DL . WW2 weekend at Godolphin....tick! National Trust at Trengainton. tick! Newlyn School and Madron visits ..WONDERFUL! Pat Peter's ''Land Girls Gang Up' will be a lasting memory of Pat, from Old Pond or Angie for £8.95.including p+p. Angie's winning poems-www.poetryspace.co.uk
---
JUBILEE POOL: JUMP IN Projet MARTHA DIXON
The drill for the Hot Rocks Project is a success! Hot water section in November WHOOHOOO! See you there.....! Acclaimed film maker, MARTHA DIXON, followed Bournmouth Symphony Orchestra and Bodelva's every move at THE EDEN PROJECT...£6.50 for a copy. Martha is wth me and AWEN on the JUUMP IN archive memories community project for the pool AND came with me to film in Kenya. More success for her Babel Film company.
---
-Discovery map- POP UP PENZANCE -Colouring books
POP UP PENZANCE ...Rachel and Maria, help improve our lovely town..! JEDNA HALL, an artist picked for Pop Up's new PAINT PENZANCE initiative and working with The Egyptian House and PURE NUFF STUFF! The Discovery Map of Penzance! ... at The Welcome Centre.. A schools' pack conceived by Angie and written by Janet Gallie takes you on a guided tour around Penzance. Or go with Anna..www.tourguidepenzance. she knows everything there is to know .... French and English 'Giant' books for school Exchange projects at a Xmas market in Brittany for the Penzance twinning ! ...and sudden interest in the Russian version...well I never !
---
Tremeneer Sculpture Gardens. Kenyan orphanage.
Ben Barrell's pebble sculptures in Newlyn Art Gallery garden in Merryn's Memory. Arts Council recognition! And in Tremeneer Sculpture Garden. And maybe planned for our new promenade ...oooo I hope so!Go see. The 'FIRST' Eatsome Project went to EDEN! St. HILARY C.P. and St. MARY'S Penzance, Angie made 2 books about eating, growing and being healthy. Illustrator ALEX HIGLETT from Pirrip Press. MERRYN'S MEMORY supports local projects in memory of Pete and Angie's daughter... get in touch. We supported the Pirate Challenge and Paint Penzance and several other projects and people. Angie worked at Humphry Davy with pupils from all feeder schools, to produce AMAZING Poetry bookmarks. Phone to get one 01736 364942 or text 07748963085. The Kenyan orphange is called THE MERRYN HOME, and the MERRYN HOME in Penzance, on the Prom, will be free and available for all Merryn's friends and artists, writers and bereaved people needing a break. Check out Angie's two supported charities. CHECK and 'School4life. CBSM' in the township of Kimilili. N.W. Kenya. Angie taught there at St. Lukes, where nearly 2000 boys live and learn. Sponsor a child's education ..so easy, so rewarding !