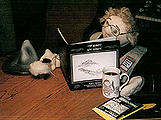 ---
DECEMBER 2021 MOONFALL, the birth of JUNO, COBNUN
MOONFALL on Amazon. or Angie. (Better! personal dedication!) ...order our wonderful poetry collections NOW..2 for the price of one.Two talented poets...making poetry funny, interesting, accessible....Lucky lucky! Huge congratulations to MOIRA ANDREW for her 101st publication....I am honoured to bask in her sunshine....! And of course thanks to DAVE LEWIS from PUBLISH AND PRINT....his care has been OUTSTANDING!! And meeting him IN PERSON! what an asset to Welsh poetry. My Welsh ancestors would be delighted. Our Arican sponsored cow MREMBO MAY, has had a beautiful calf, welcome JUNO-PULLESI.. Stunning, photos of them both from Kimilili, N.W. Kenya. Thank you Doreen. Cobnuts at BOSAVERN FARM ST JUST ...an amazing inclusive collective of poets...initiated by talented artist, potter and poet SONJA FAIRFIELD. We are honoured to have worked with artist Emma Smith and Sarah Chapman of Storylines and our poems have been recorded to be used on the new Mounts Bay cycle path near Marazion and St. Michael's Mount. Angie's has also submitted 4 children's plays about the legends of the Bay. The sunken forest will be the focus of our poems. Welcome to THE TERRACE GALLERY in Penryn! Take a look..and see Julia Rowlands wonderful work there. Had a message about my sales only yesterday !! In 2019 I was teaching 14 to 19 year olds in Kimilili, N. W. Kenya.....! Thanks to charity C.H.E.C.K. and Geraint Jenkins. Poems written on the trip sent off...! Title? RED DUST RISING! Now entering into the publishing world, finger's crossed! Sponsored boy GRIFFIN'S 20th birthday present,£200. He bought the cow, Mrembo May, and she is has had a beautiful boy calf JUNO-PULLESI. And perhaps the boys in St. Luke's School will read my poem dedicated to them! Be in touch if you do boys.... Nairobi University, where Griffin is studying Laser Optics, has given the boys a short break before the new term starts again this month. We sent money raised at our 52nd Wedding Anniversay, in lieue of cards and gifts towards his food costs for the term. His accomodation is being helped by the sales of Moonfall. AND THE BIG NEWS WAS.. 3 interviews and and radio poetry readings.... Thanks to Anthea Page of Newlyn Film Festival for three skilful interviews and expert editing. And Gabriel Lucas Green's debut on Radio 4 in New Story Tellers a year ago last August 11th 13.45 Palores-The Bird of Cornwall My poem and interview were chosen as Pick of the Week!! Thanks to Gabriel Green and Martha Dixon ...for VERY skilfull editing! Tears flowed! and it shows....! Fi Read organised a Women's Aid Cabaret at The Acorn...Angie showed Martha Dixon's films of the KENYA trip. A great night..thanks to the donation to THE MERRYN HOME) In Kimilili....N.W. KENYA I met Griffin's grandma. He started life in the Merryn Home. I watch his journey with great interest! We hosted Bridget Holding to stay for 2 nights for The Lit Fest. last year. where I was sharing my poetry with Diana Dixon and friends in the Coach house in Penlee Park. Sadly no Lit Fest this year! Also welcomed in The Merryn Home accomodation for favourite artist PAT SCOTT Poetry Space has published the important collection A SCREAM OF MANY COLOURS...with a hopeful poem of Angie's near the back. Two of Angie's poems in the top 4 winners of Exmoor's Dark Skies poetry Competition and another recently appeared in booklet of competition entries about the local DING DONG mine. THE JUBILEE POOL, Then, Now, To Come....such a great project. All due to Barbara Santi and her team at Awen and Jane Bailey and Lou Brett. And the BOOK is out and on sale at the pool box office. JUBILEE POOL a first in Britain as the THERMAL hot water section opens! come try! Looking back ...The 'In the Swim' poetry entries were on display in St. Mary's Church. Thank you to all at the church for such great support. Thanks to The Carers Group,PZ.a group in COVERACK and THE OVER 50's FORUM. for recommending me...They heard about The JUBILEE POOL and my lovely LAND ARMY GIRLS. 'CoastLines' art and poetry in hand made books, with writer STEPH HAXTON and Artist SUE LEWINGTON. 12 writers and artists for 12 coastal months. An exhibition in Morrab Library...The 'book' project now in its THIRD year with another set of amazing artists and writers. The Sandy Gusset Project - Linking listed Lidos across Britain- knitters support Lidos around Britain ...particularly the 1935 Jubilee Pool in Penzance. THE LIDO CONFERENCE this year was in Cheltenham in Septmber. 'Be a Write Pirate'..and 'Poetry for the Pool' both brought worthy winners. Thanks to judges Tanya Gold and Gray Lightfoot. Sponsored flags for daughter MERRYN on Penzance prom, one year... BODELVA. performed at THE EDEN PROJECT by THE BOURNMOUTH SYMPHONY ORCHESTRA 21 schools, 600 children playing and Angie, the narrator.. BODELVA also featured at The Five Islands school on the Scillies and BOSVIGO in Truro. PENRYN COLLEGE at TREBAH GARDENS hearing about TREBAH the giant. LUDGVAN School raised £1500 at their Sports Relief event and Heamoor School £400 for the Jubilee Pool. their reward ...a chat from Prince Charles! epic! Stories by Sarah Chapman and Lisa Jones of 'Storyworks'. LIZZIE BLACK and Angie made an ANIMATION film about the pool with ALVERTON gifted pupils. Lizzie's cards are wowing everyone. Hayle Heritage History Project : The story of KING TEUDAR, the lost king of Riviere. Welcome back King Teudar!!
---
REACH POETRY INDIGO DREAMS and POETRY SPACE
Angie has put INDIGO DREAMS PUBLISHING right at the top of her favourites list. Take a look. The Tangerine Cafe in Beaminster near Bridport, Dorset, home of Susan Sims, founder of Poetry Space, now award winner...congratulations....call in! Still a best seller The ART CARD PACK for schools 28 cards for £8.95 inc p&p from angie@westcountrygiants.co.uk and see www.lapidus.org.uk See it on www.POETRYSPACE.co.uk as well. In 2011 We took the Guinness record for PIRATES from Hastings, 8734 pirates raised £7583.96 for 3 charities. In 2014, 77 short of the 1400 plus pirates needed. Just saying! DIGGING FOR MEMORIES The LAND GIRLS of Cornwall, on its 3nd. imprint, Cheques for £15.00 inc p+p. to A. Butler,9 Marine Terrace, Penzance, Cnwll, TR18 4DL .
---
JUBILEE POOL: 88 YEARS OLD THIS year!
The Hot Rocks Project is a success! BUT check the website for recent news and booking conditions. Check out the AWARD WINNING awen website and www.jubileestories.co.uk for fabulous memories and photos AND Jubileepool.co.uk Acclaimed film maker, MARTHA DIXON, followed Bournmouth Symphony Orchestra and Bodelva's every move at THE EDEN PROJECT...£6.50 for a copy. More success for her Babel Film company.
---
PENDEEN CHURCH -Discovery map- -Colouring books
In July PENDEEN CHURCH hosted Pendeen school and parents ...and Angie, with her display about WW2 and the Land Army. The Infants and their staff were a total delight ...asking questions about the display ..and the church. Thank you Rev. Karsten for such a warm invitation and help in arranging the exhibition, JEDNA HALL, an artist picked for Pop Up's new PAINT PENZANCE initiative and working with The Egyptian House and PURE NUFF STUFF! HARBOUR MASTER EXTRAODINAIRE The Discovery Map of Penzance! .... A schools' pack conceived by Angie and written by Janet Gallie takes you on a guided tour around Penzance. Or in the future go with Anna..www.tourguidepenzance. she knows everything there is to know .... French and English 'Giant' books for schools, a gift for the Penzance- Brittanny twinning ..when they're able to come! And schools loved them for their 'Lockdown' children. Such a great distraction.
---
Tremeneer Sculpture Gardens.
Ben Barrell's pebble sculptures in Newlyn Art Gallery garden in Merryn's Memory. Arts Council recognition! In Tremeneer Sculpture Garden! And this year looking stunning on the Penzance Promenade. Look out for Sheila Williams, my fabulous potter freind, her sculture at Tremeneer too. What talent! The 'FIRST' Eatsome Project went to EDEN! St. HILARY C.P. and St. MARY'S Penzance, Angie made 2 books about eating, growing and being healthy. Illustrator ALEX HIGLETT from Pirrip Press.